Welcome to Intrinio! Here's everything you need to know to start testing data in our Sandbox environment and making successful API calls.
Introduction
Welcome to Intrinio!
Intrinio is a financial data provider, offering a suite of US Fundamental, US Market Data, and SEC Data products primarily via our Web API platform.
We leverage proprietary automation and machine learning technology, built by leading XBRL and data infrastructure experts, to source and clean financial data. We've eliminated the high costs, outsourcing, and human error inherent in manual mapping to deliver high-quality data faster, through more advanced tools, and at a better value.
I signed up. Now what?
As soon as you create a free account, you immediately receive two API keys: A Sandbox Key and a Production Key. You can find both in the API Keys section of your account page.
What is the Sandbox?
Your Sandbox Key is live and ready to use right away. It provides access to full data and history for the majority of the products we offer, on a limited universe for each feed (primarily the Dow 30 universe).
This access does not expire and is meant as a test environment to evaluate our platform and build out your proof of concept.
How Do I Get Started With the Sandbox?
To start using your Sandbox access, begin on the Sandbox section of our documentation. This provides more information on your Sandbox access, including all datasets available.
At the top of that documentation page, you'll see several access methods to toggle between: Excel, CSV, and API.
Excel provides specific documentation for our Excel add-in
CSV is our CSV-based API
API is our Web API documentation
The rest of this article will use examples/walk-through our API platform specifically. However, this will be almost identical to all other access methods, with slight variations in verbiage/results returned, so it will be applicable and helpful across the board.
Once you select your preferred access method, you'll find the general documentation at the top left under the "Overview" section. This section includes initial getting started information, authentication help, info on limits and response codes, etc. It is recommend you go through each section beginning at the top and working your way down, to build up your base knowledge on the API.
How Do I Find The API Endpoints You Cover?
Skip the "SDKs" section for now and move down to the "API Endpoints" section. This branch of the documentation lists out all endpoints available to you via our platform, categorized by data type and/or function.
Within each specific endpoint, you'll find information on the input parameters with explanations, output fields with definitions, and a Sample Data section showing you an example response in JSON.
How Do I Use These API Endpoints?
Also included is a live formula builder, allowing you to craft your endpoints with guided parameter fields and helpful lookups. To access this, click "Switch to Live Data" in the Sample Data section: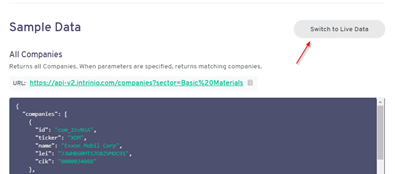 You'll be greeted with an interface showing all possible parameters, with text fields allowing you to easily insert/update the inputs for the endpoint.
You'll notice the "URL" box below will also update in real time as you add/remove parameters from the call, showing you the exact Web API syntax created based on your inputs.
You're also able to run the endpoint directly in this interface, allowing you to test out your syntax before running it elsewhere. To do so, first make sure the formula builder is using your Sandbox API Key by clicking the gear icon directly below the URL box and selecting API Key Sandbox: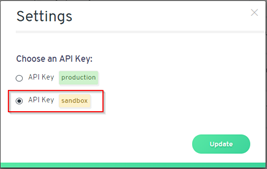 Once set, hit the "Execute" button to the right (also seen above) to return the data requested directly in the formula builder window.
To now run the endpoint in your browser, make sure that the "Include API_KEY parameter when copying" is selected (also seen above), click the URL text box to copy, "Ctrl-V" paste in the URL section of a new browser window, and hit enter to run. This will return the data requested directly in your browser, in raw format. To format this data into a more easily digestible output in Chrome specifically, we recommend the JSON Formatter Chrome Extension.
Applying Your Knowledge: A Test Run with the Sandbox API Endpoints.
Step 1. As a quick example/practice, use the All Companies Endpoint to return the list of US companies accessible in the Sandbox environment (Dow 30):
https://api-v2.intrinio.com/companies?api_key=Your Sandbox API Key
Step 2. Take one of the companies returned there, and run it through the Stock Prices by Security Endpoint, to return the end of day adjusted and unadjusted pricing data time series for that specific company:
https://api-v2.intrinio.com/securities/AAPL/prices?&page_size=1000&api_key=Your Sandbox API Key
https://api-v2.intrinio.com/securities/AAPL/earnings/latest?api_key=Your Sandbox API Key
Step 4. Test out a completely different security type, by running the Forex Currency Pairs Endpoint, to return the list of currency pairs you have access to with your Sandbox environment:
https://api-v2.intrinio.com/forex/pairs?api_key=Your Sandbox API Key
https://api-v2.intrinio.com/forex/prices/EURUSD/H1?timezone=UTC&api_key=Your Sandbox API Key
Step 6. Once familiarized with our documentation for the Web API, we recommend utilizing one of our official SDKs for easy integration/implementation in numerous programming languages. You can find the list, with links to their respective GitHub pages, on the same documentation page directly under the top "Overview" section on the left side of the page:
I'd Like to Access the Entire Universe, What do I do Next? How do I Move to a Production Environment?
Discover Which Datasets You've Been Using in The Sandbox.
In order to move from the Sandbox environment to a production level subscription, with higher API limits and access to the full universe available, you'll first need to determine which data feeds you've been utilizing in the Sandbox.
In order to do that, navigate to the Usage section of your Account page.
On this page, you'll find an "API Usage" box, with an "Environment" toggle allowing you to choose "Sandbox" or "Production":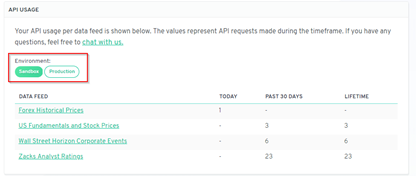 Make sure you've specified "Sandbox" and you'll see a list of data feeds you've been accessing during your time in the Sandbox, with your respective usage on each. Once ready to subscribe to one or more of those feeds, simply fill out and submit a Request a Consultation form to schedule a time to speak with a member of our sales team.
You Now Have A Production API Key.
Once subscribed, you'll immediately receive production level access to the specific feed you chose. All documentation and current integrations you have will continue to work for you, you simply need to switch out the Sandbox Key you've been using, for your Production Key (both seen on your account page).
Your Sandbox Key will remain active for all of our feeds, so for any of those you still wish to test, continue to use the Sandbox Key. However, for any data feeds which you are subscribed, make sure to use that Production Key to take advantage of your subscription.
Do You Have Any Additional Resources or Guidance?
If you ever need any assistance or have any questions at all, please don't hesitate to reach out to our support team either at support@intrinio.com, or via our live chat service located at the bottom right-hand corner of the screen. We are available on chat live between the hours of 9:30 AM and 5:30 PM EST Monday-Friday.
Did this answer your question?